Impressive Teamwork in the Church
I doubt that there are many churches who would send their teens 20 miles without a car to a sister church to help them out with a vacation Bible school. But that's exactly what a group of Ukrainian teenage leaders did for an entire week. Why did they do it? They did it for the love of the church.
Our whole family just got back from Ukraine with a Team from our home church of Denton Bible. One of the pastors who graduated our Bible Training Center for Pastors class invited us to come and help them with a day camp, essentially a vacation Bible school.
This was his fourth year of putting on this day camp. The pastor had built an impressive team of young adults to help stage a week-long VBS. I was even more impressed when I realized that not all of them were from his church. Some had come from other churches in the region to help. How many of us would travel to a sister church to help them out like that? I am so glad we got to see such an examples of churches uniting together, but it took a lot of work to even get there.
One of the most difficult tasks early on was finding a team leader. I started recruiting in January, but for most people, it was too close to the start of school. By March I finally asked an old college friend of mine, Jeremy Pope, if he might lead the team, thinking that he was likely too busy. A few days later, Jeremy wrote me back saying that not only he was interested in going, but also his teenage son, who loved missions and who wanted to go to the former Soviet Union! God came through in a big way.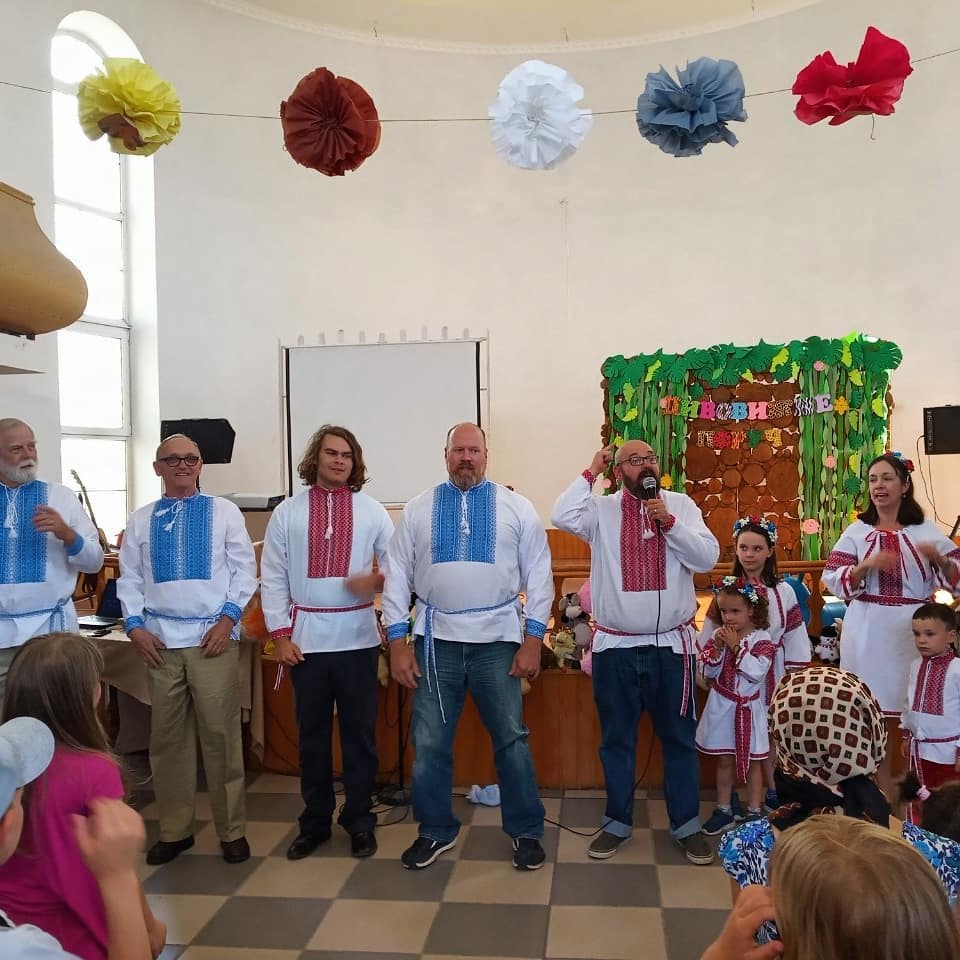 Also, before any of us even got to Ukraine, things started going wrong logistically. The day that the team was supposed to leave, Pastor Volodymyr told me that he would be unable to pick us up at the airport. We decided it would be best to take the train instead so he bought train tickets for the day after the team was scheduled to arrive.
The next day, as we were getting ready to leave for the airport in Vienna we found out that the team missed their connection to Paris, putting them an entire day behind. They were going to miss the train so we organized another night in Kiev and bought yet another set of train tickets! To add insult to injury, when I finally picked up the team at the airport in Kiev three of the four team members were missing bags!
We finally arrived in Yarmolintsi (yar-MOLE-eent-see) shortly before the church kicked off the VBS with a kids festival event. They put us right to work. Liz helped with face painting and the rest of the team helped out with various events around the church ground. After that, we met with the Ukrainian team and found out what groups we would be helping out with.
During the camp, we all helped with groups of various age ranges and for 45 minutes every day we were responsible to teach an English lesson. There was only one translator and most of the Ukrainian team members didn't speak much English, but the team did a great job just serving where they could and loving the kids, despite the language barrier.
On a few occasions in the evening Matt would get a chance to visit some other local churches in the area, to learn more about their ministries, get a feeling for the challenges that they face, and hopefully be an encouragement to them. One evening the Team went with Matt and they were recruited to sing for a prayer service. None of us had much business singing in front of an audience, but if you don't want to be challenged, then don't go on a short-term missions trip!
We can never be sure of all of the fruit that comes from a trip like this but as we all headed back to Kiev and then on to home, I think we all felt sure that God has used our time in Yarmolintsi to draw many of these children and their families closer to him, and to encourage not only the church there, but in the surrounding cities and villages. 
Click here if you would like to see more pictures from the trip.